Walter S. Arnold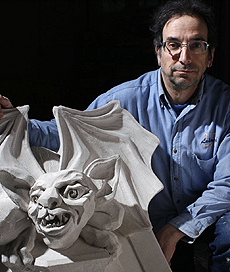 Walter S. Arnold
Walter S. Arnold Studios
Elgin, IL
[T] 847-568-1188
Email me
www.stonecarver.com
The Elgin studio and showroom are open
to visitors by appointment only.
My classic European training gives me the knowledge and freedom to select from both old and new tools and techniques. Most of the carving here in the U.S. is done with saws, grinders, and sandblasting methods, which are good for fast removal of material, but don't bring out the character of the stone in the way that the old chisel techniques do.
Client List: My client list includes numerous private collections, residences, parks, and places of worship in the U.S. and Canada. Other client work includes:
The White House
U.S.Capitol Building
Washington National Cathedral
University of Chicago
University of California
Chicago Board of Trade
Chicago Tribune Tower
Chicago Park District
Art Institute of Chicago
Valentine Museum, VA
Richard H. Driehaus
I am fluent in many styles, ranging from Classical and Renaissance to Gothic, Baroque and Art Nouveau.
Portfolio
"By training first with the hammer and chisel and working by hand, I gained an intimate feel for the stone and a broad repertoire and vocabulary of technique."