Timothy Doyle
In Memoriam
1946-2016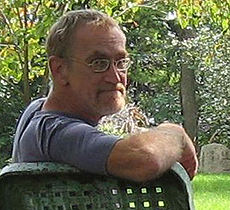 Timothy Doyle
Shannon Stone Co.
New Haven, IN
www.shannonstone.com
My 30 years of experience in carving stone includes:
Formal apprenticeship under the legendary Jack Kendall, Master at Oolitic, Indiana, 1976.
Study in Classic architectural cutting and carving and statuary carving, including tool use, layout and procedure, match template and architectural pattern making, bridge trammeling, pointing and caliper pointing, and stone design for environmental conditions.
Carving from models at full scale, fractional scale models, shaded section drawings, sketches, prints, shop drawings, or matching existing work.
Licensing as a Masonry Contractor, Allen County, Indiana, for stone setting. Observing the guidelines of the Indiana Limestone Institute for stone handling and setting procedure.
Journeyman Stone Cutters Assn. of Indiana, cutting and carving certification, Union member.
Personally honored by Jack Kendall to continue the use of his "Bench Mark."
Specialties: Indiana Limestone, other types by request. Full range of carving services.
Portfolio
"Our profession requires mastery of the tools and materials which enable us to reliably impose, within stone, whatever shape meets the demands of the client. This includes the ability and willingness to work with architects, sculptors, contractors, and others toward the successful use of carved stone within the client's setting."