Sean Hunter Williams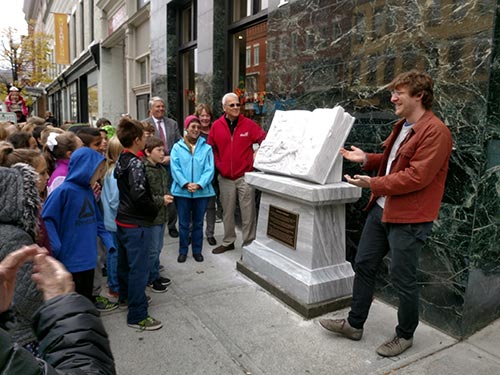 Sean Hunter Williams
Vermont
Email me
www.seanhunterwilliams.com
Instagram:
seanhunterwilliams
I am a second generation stone carver based in Barre, Vermont specializing in granite. I attended the Pennsylvania Academy of the Fine Arts in Philadelphia, and graduated from the University of Pennsylvania with a degree in fine art, and minor in art history and german.
Since 2013 I have been apprenticing full time with my dad at his shop, Barre Sculpture Studios, but have been working there on and off since 2006. I work with private clients on commission, larger manufacturers of stone products, and have won public commissions that are centered in a representational practice. Stone carving is a life-long commitment, and I strive to improve my craft and abilities with every sculpture I carve.
Though I specialize in granite, I welcome working with other (softer) stones whenever I can, and enjoy carving Vermont marble — which is considered a 'vacation' in Barre! I work by the old italian adage, "a work is born in clay, dies in plaster, and is reborn in stone", where my process starts with a clay model which is cast into plaster, and then copied into stone.
Portfolio