Fred X. Brownstein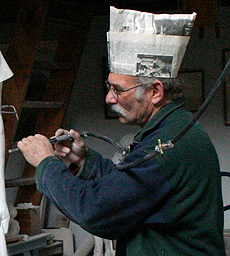 Fred X Brownstein
P.O. Box 495
North Bennington, VT 05257
[T] 802-442-7174
Email me
I lived and worked in Italy from 1975 through 1991, when we moved to Vermont. During that time I studied figure drawing with Signorina Nerina Simi in Florence and was an apprentice for four years in the marble sculpture studio of Enzo Pasquini in Querceta. There I learned the traditional Italian carving techniques from two master craftsmen, Vincenzo Donati and Sirio DeRanieri. My fourth year was spent as a "smodellatore" working for Signor Pasquini carving copies of classical sculpture.
In 1980 I opened my own studio in Querceta and now I continue to create original marble sculpture my Vermont studio. Most of my work is done on request for either public commissions or private clients, although I occasionally have time to create new sculpture for sale or exhibition.
Specialties: Figurative marble sculpture, Portrait sculpture.
Portfolio
"My goal is to make contemporary marble sculpture with traditional techniques. I believe that any good artist must first be a good craftsman."