Cary Shafer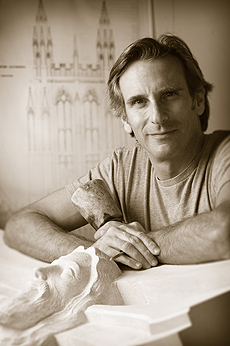 Cary Shafer
611 E. Wayne St.
Ft. Wayne, IN 46802
[T] 260-615-3855
Email me
www.caryshafer.com
My 25 years carving experience was launched when I apprenticed with Italian master-carver Vincent Palumbo at the Washington National Cathedral. Cary is one of a few classically trained stone carvers living in the United States. I also participated in restoration work at the White House and was artist-in-residence at Crazy Horse Mountain, South Dakota.
When designing for private commissions, I create pivotal pieces and complementary architectural ornaments that harmoniously coexist with a client's home or landscape. The resulting piece reflects not only my skill and abilities, but also masterly execution.
I am an expert at working with clients and understanding their needs to create a unique site-specific work. I am comfortable and knowledgeable in executing projects in everything from classical to modern motifs.
Specialties: I am an accomplished American sculptor, a classically trained stone carver whose breadth of work includes major architectural projects, private garden installations, and freestanding abstract sculpture.
Portfolio
"From studios across the United States and in Europe, my work continues to evolve as I explore the boundaries of my art on the personal and the large-scale."