Bob Ragan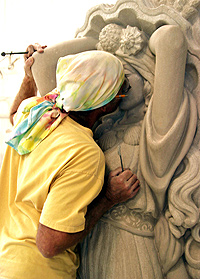 Bob Ragan
Texas Carved Stone
6621 Highway 195
Florence, TX 76527
[T] 254-793-2384
[F] 254-793-2693
Email me
www.texascarvedstone.com
I am the founder, lead designer, and carver, at Texas Carved Stone. I carve in the traditional, classical European manner and guide a team of skilled and novice artisans. I teach apprentices not only the skills and expertise needed to carve beautifully, but also an appreciation of classical concepts of balance and aesthetics.
Background:
15 years experience as a stone mason.
20 years experience as a stone carver.
Started Texas Carved Stone in 1987.
Specialties: I am an architectural carver – all styles and periods. Limestone and sandstone are my materials.
Portfolio
"It's been a rocky road!"