Amy Brier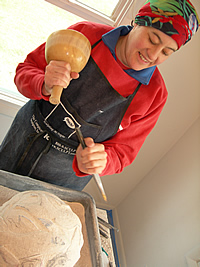 Amy Brier
Amy Brier Sculpture
Bloomington, IN 47401
[T] 812-824-8845
Email me
www.amybrier.com
I come from an artistic family, and received a BFA in Sculpture from Boston University. From 1987 to 1993 I was a stone carver at the Cathedral of St. John the Divine in New York City. There I was immersed in Gothic architectural ornament. During this time I worked 6 months in Lyon, France on the restoration of the 13th century nave of St. Jean Cathedrale. These experiences were my formation as a carver. I then came to the heart of limestone country in Indiana and received a Masters of Fine Art from Indiana University.
I have shared my skills with carvers of many levels and cultural backgrounds in workshops and symposiums in Africa, Europe, and across the US. I am co-founder and director of the internationally recognized Indiana Limestone Symposium, held on the grounds of the Bybee Stone Co. For the last 14 years, the symposium has exposed artists from across North America, Europe, and Asia to the beauty and carvability of Indiana Limestone.
Ideas about how we remember personal and cultural memories are behind much of my work. I reference classical forms and techniques, but I bring these into contemporary dialogue. For example, in the Roliquery sculptures the viewer uses the stone to create the fleeting image in the sand, fragile and endlessly renewable. This addresses ideas of interaction, and a reframing of materials as the stone becomes the tool that creates the final fugitive image in the sand.
Specialties: Signature line of interactive sculptures "Roliqueries", lettering, representational sculpture.
Portfolio
"Stone is synonymous with memory. It is a physical record of the earth's history. Indiana limestone is also part of the fabric of our national identity and cultural memory. It is the building material for numerous state and national monuments and landmarks."